This post may contain affiliate links. Please read our
disclosure
for more info.
In this updated ConvertKit Tutorial 2019, you'll get a step by step on exactly how to delivery a free lead magnet with ConvertKit. It's so easy to do!
Also, if you use my link to sign up for a free ConvertKit trial, you'll get 30 days for FREE instead of the standard 14!
---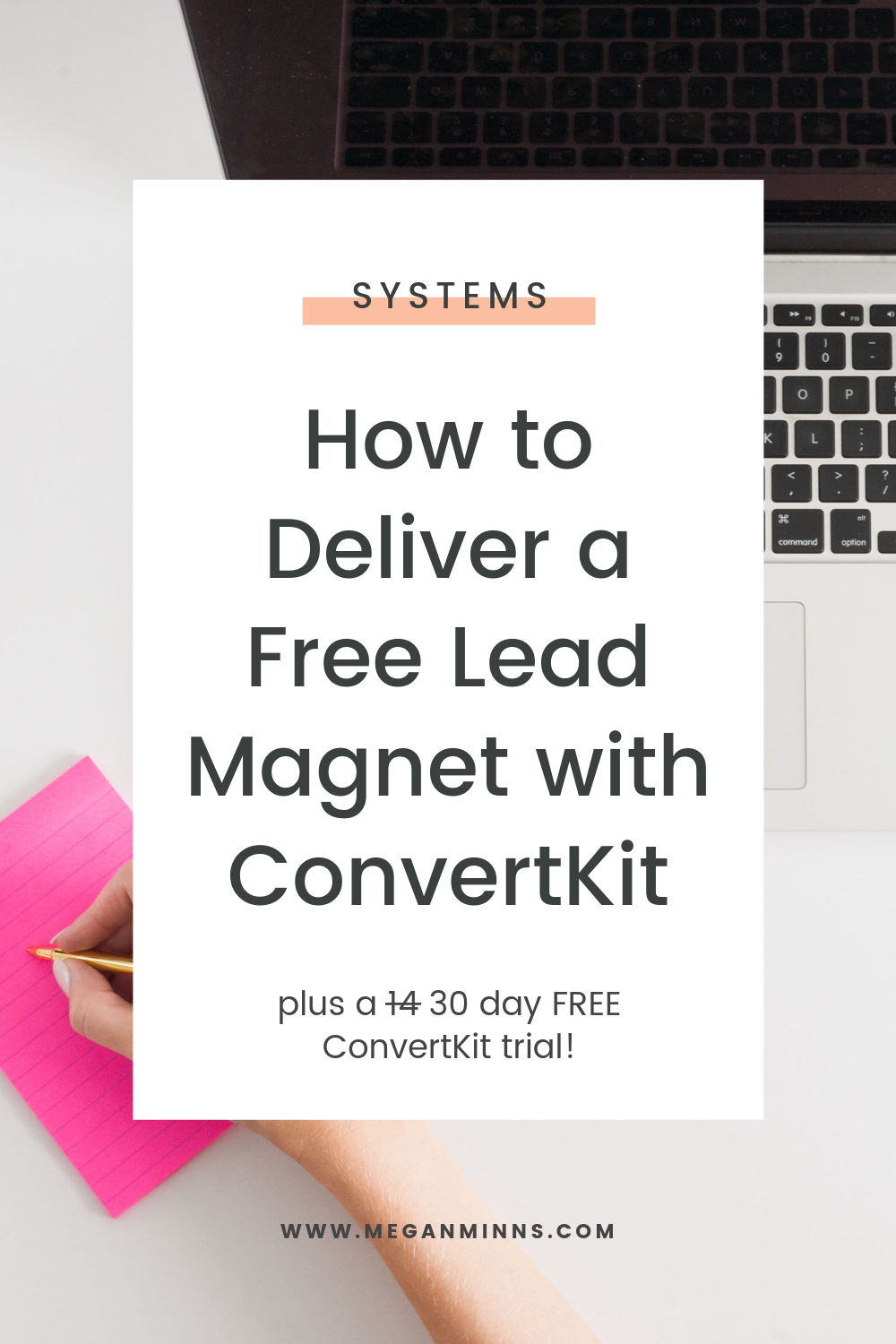 In this tutorial I'm going to be showing you how to deliver a free download, lead magnet, or content upgrade to people who opt-in to your email list using ConvertKit forms or landing pages.
Really quick though …
If you don't have a ConvertKit account yet and you would like to sign up for a free trial, make sure you go to meganminns.com/convertkit and you will see this beautiful page and you will be able to get your first month for free!
The normal free trial is only 14 days so if you want an extra half of the month then be sure to opt-in through this page.
Okay now it's tech tutorial time which mean these blue light blockers are going on, I've got my red wine, I'm ready to do some tech, so let's jump in.
For this tutorial, I'm going to show you how to do this in two different ways and they are very similar, which is beautiful.
Create a New Form in ConvertKit
So I am just in the backend of ConvertKit and we are going to deliver this free download, also known as a lead magnet, or a content upgrade through forms, so make sure you go into your ConvertKit account and click forms, then jet over here to the right corner and click new form.
Now ConvertKit gives you two options, both a opt-in form which gets embedded onto a website that you host, or a landing page which is actually hosted by ConvertKit.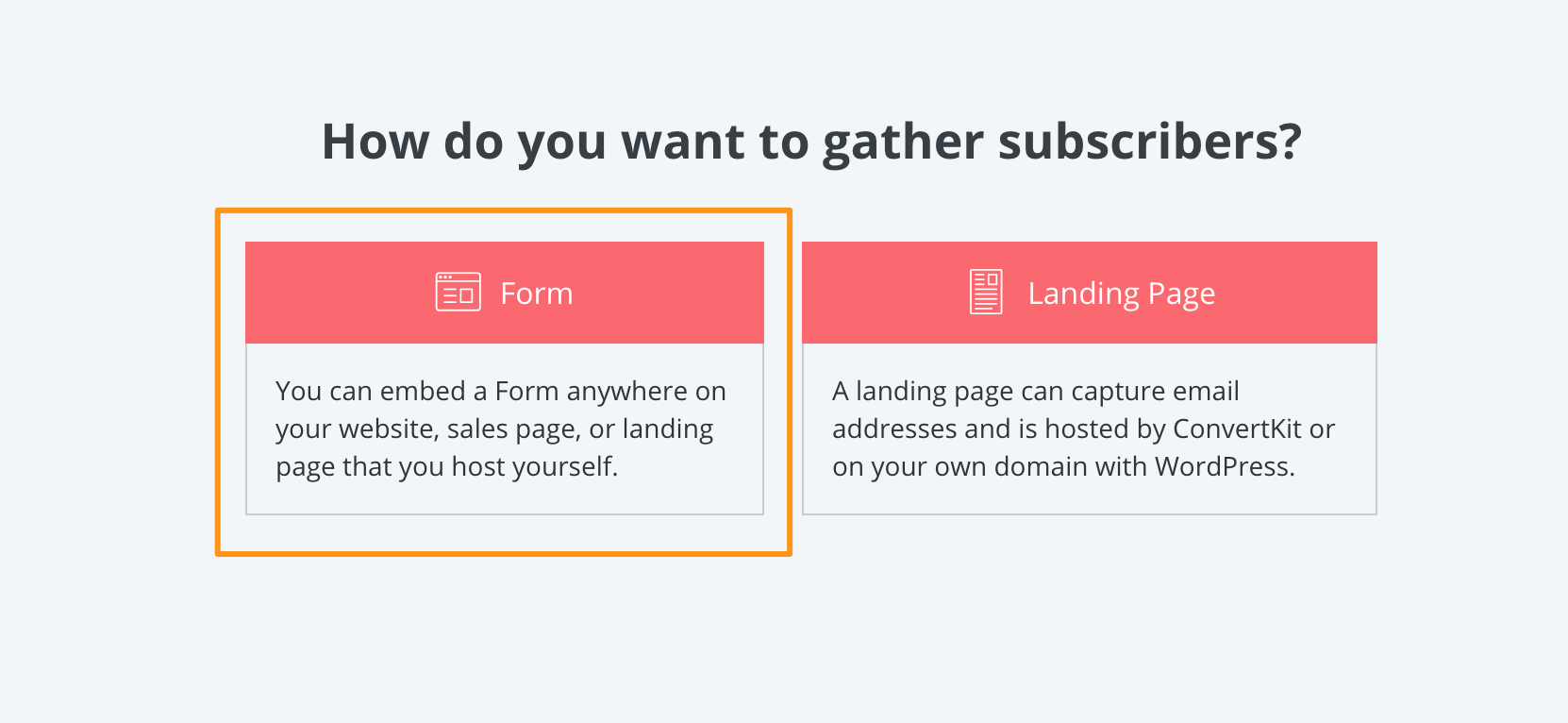 I'm gonna focus on showing you the form and then I'll quickly jump over to a landing page and show you exactly how to do the same thing.
Both are great options just depending on where you're at and what options you have, so let's dig into the form.
There are 3 different types of forms in ConvertKit:
Inline

: appears in the body of the website

Modal

: ConvertKit's pop-up option

Slide in

: you know, it sliiides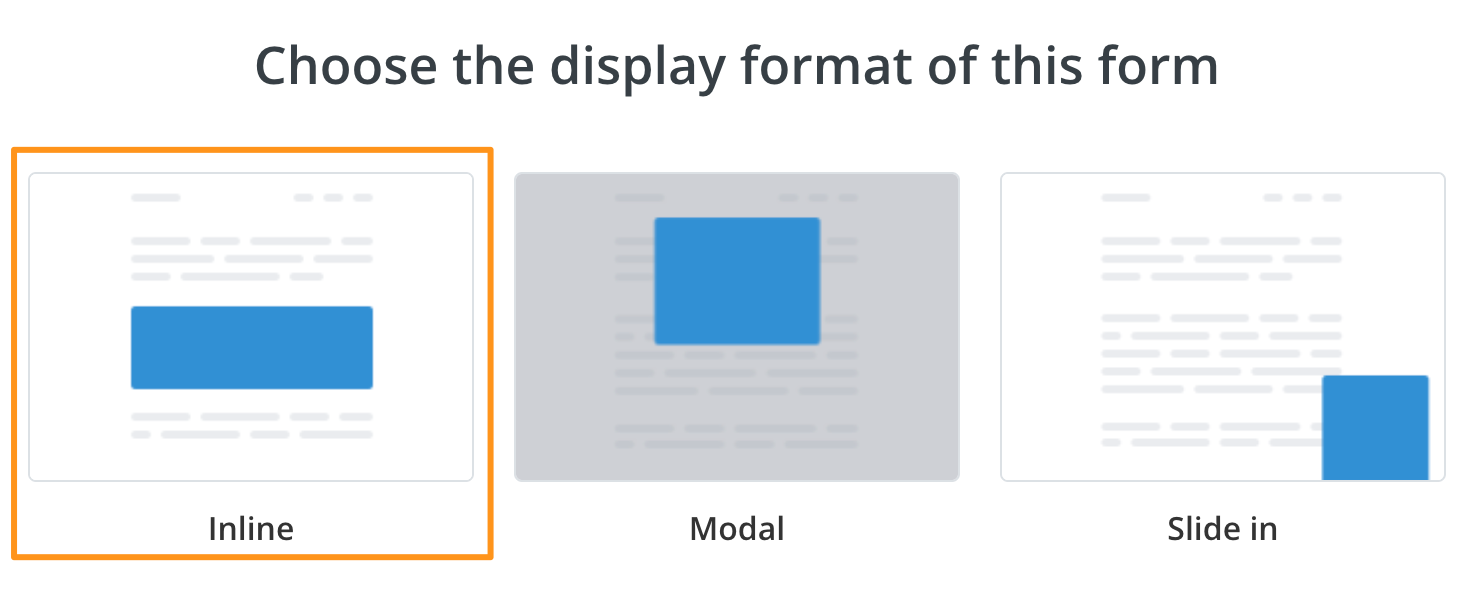 All of these are great and the actual delivery of the content upgrade or lead magnet will be the same regardless of what you choose, so for this purpose I'm gonna pick Inline.
And again the delivery of the free download will actually not change based on what template we choose, so pick whatever template serves you the best.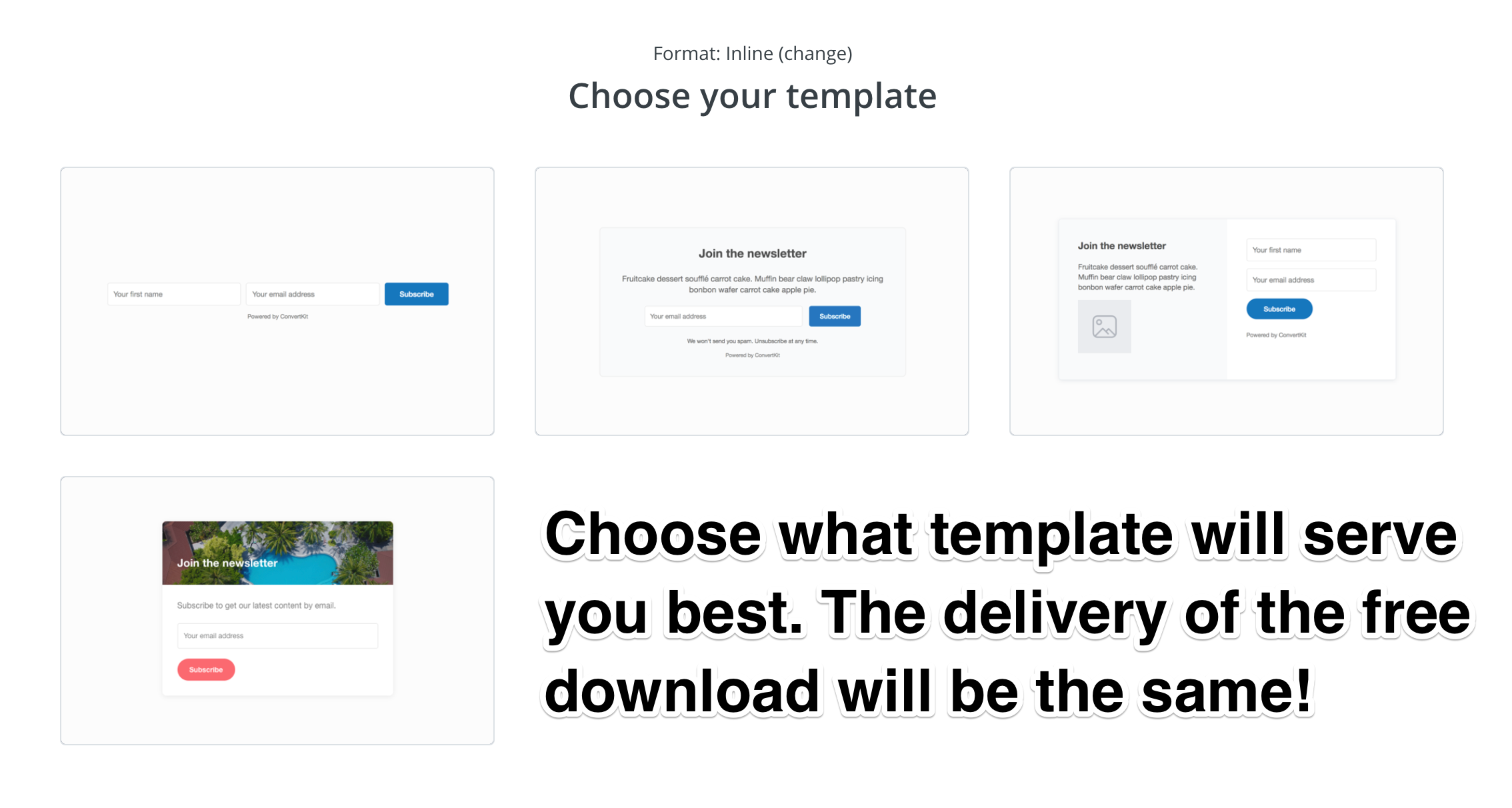 Let's jump over straight to how you deliver a free download through a ConvertKit form.
The Purpose of an Incentive Email in ConvertKit
On the right side, we see this blue navigation and the first thing I want you to jump over to is this email icon.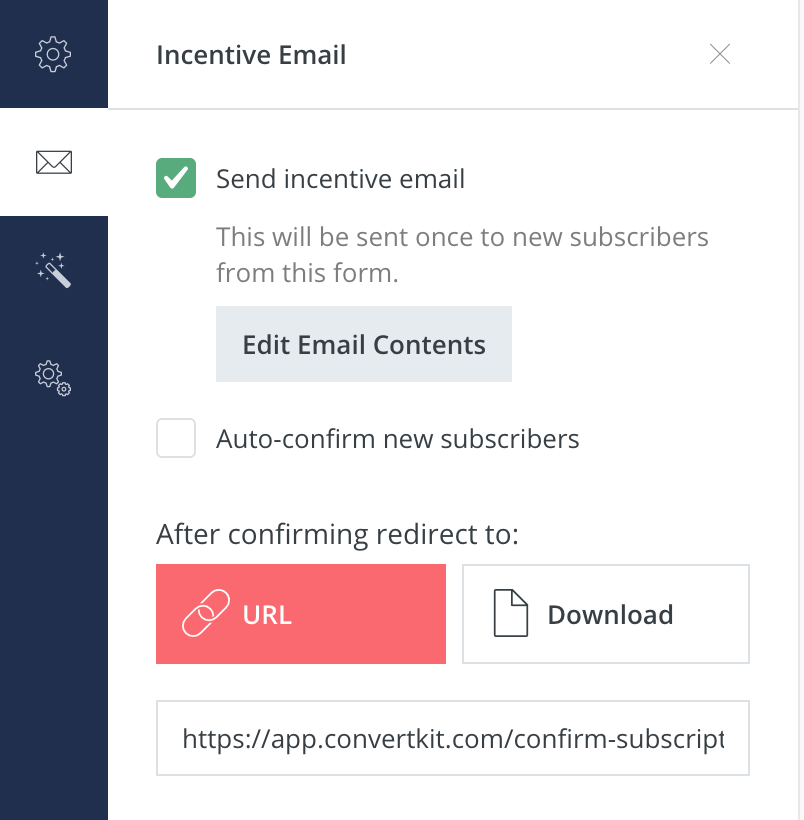 This is called the Incentive Email, so what it does is that when someone opts in to the opt-in form, ConvertKit will send them an incentive email after they've entered in their information.
Now this incentive email can serve a few different purposes:
If you are doing double opt-in: the incentive email is how you will get the double opt-in from your new subscribers, and that is where they will click the button and they will be a confirmed subscriber when they click the button in the email.
If you're not familiar with the double opt-ins and if you want to do that, there are plenty of resources about that within ConvertKit's Knowledge Base and on the internet, but I just wanted to make sure you knew that you do need to have the incentive email turned on in order to deliver this free download.
So that button has gotta be checked, and the incentive email is how we're delivering this freebie.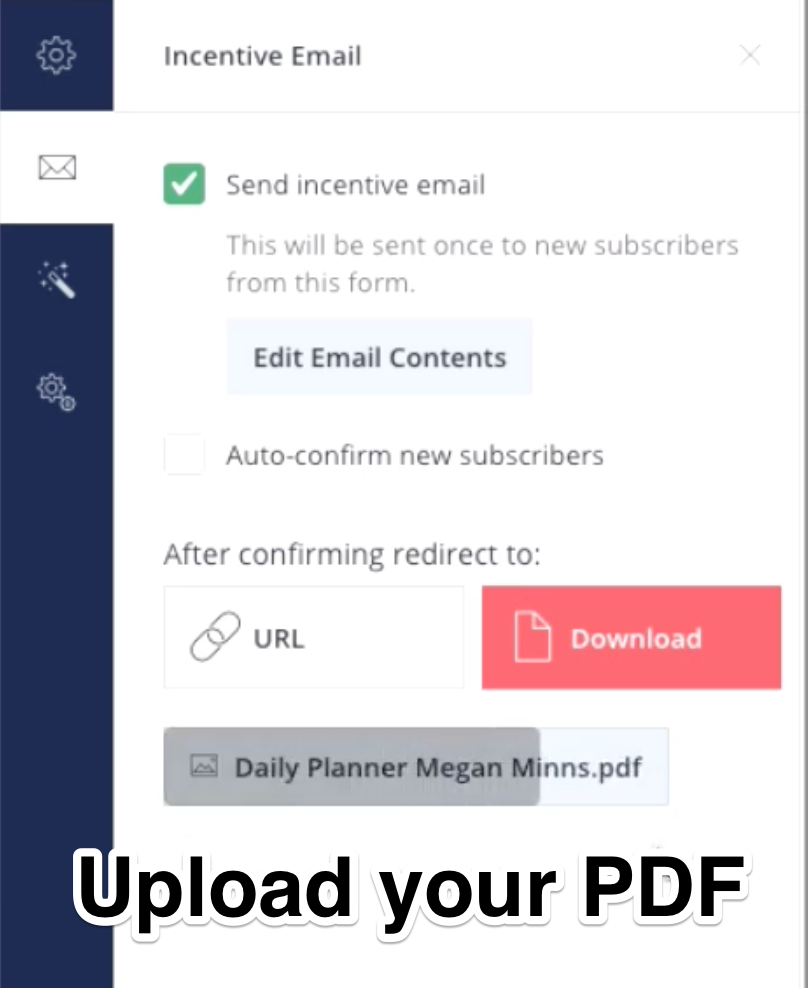 Now you can either drop in the URL of the place where they are accessing the file or click download and choose a file to upload.
And so this should be your free download, your lead magnet, the PDF, the image, whatever it is, make sure you choose that file now.
So let's go ahead and press save, always wanna get in the habit of pressing save.
Editing Your Incentive Email
And now we can go ahead and click the "Edit Email Contents" button.
So when we click this button you'll see this pops up, this is the incentive email that is sent to new subscribers to this form, and we have a few options.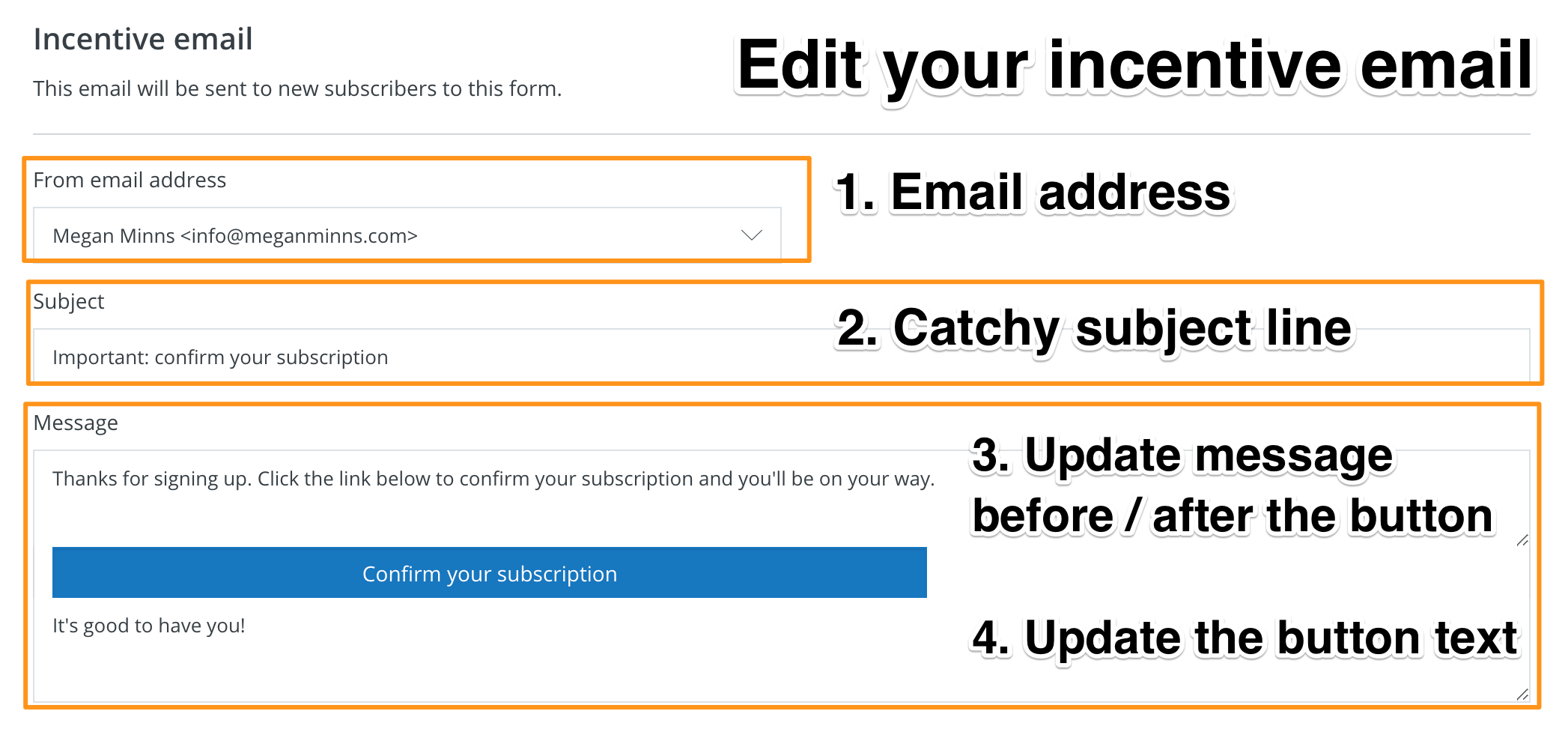 We could change what email address this comes from, it will automatically select the default email address you have chosen in your account settings.
You can change the subject line and you can change the message, whatever subject line you think will be the most impactful. It is generally helpful to make sure they know that they need to open it in order to do something or get something.
Now there is basically three sections of the message: there's the part before the button, there's the button, and then there's after the button.
So it's not a rich text editor. It will take HTML if you do know HTML and want to add that in, you can do that.
You could say:
"Hi there, thanks so much …."
"Thanks for signing up, click the link to receive your download…"
So you can change the text of this button by clicking it and saying something like, "Confirm and Download Now!"
Now if you're not using this to get double opt-in and you're just using it to send the freebie, you could literally just say, download the free daily planner, whatever makes the most sense to you.
And then change your sign-off, so it can be whatever you want.
And let's press the x in the top right corner and then let's make sure we save.
Here's an example of what an incentive email looks like when someone opts-in: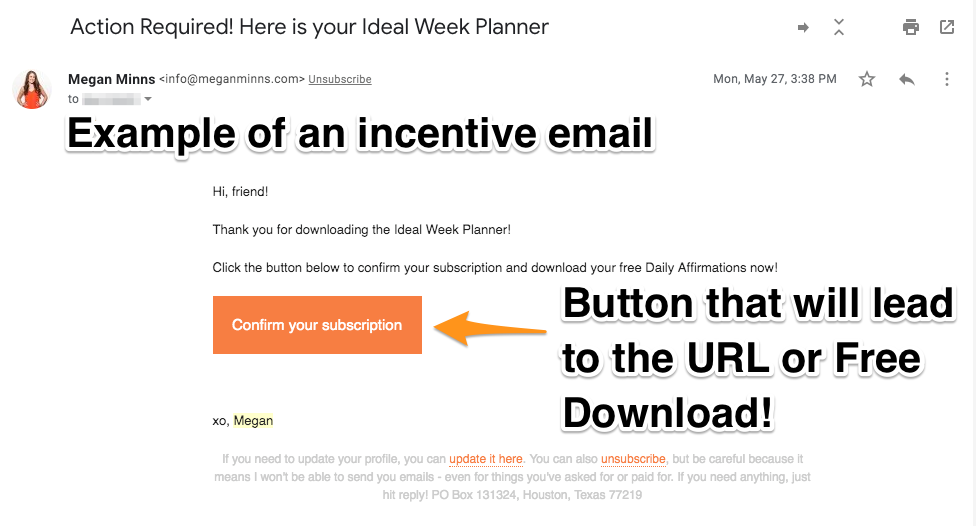 Now in that email it was a blue button and that button will match the subscribe button color you have for the form.
So if you want that button in your email to be orange, then the subscribe button needs to be orange.
So just keep that in mind and follow this next step on how to send yourself a test email!
Embed your new ConvertKit Form into SquareSpace
We can't test this new form until we embed it on our website.

Let's go and click embed.
Now we have a lot of different options here. I think ConvertKit does a great job in their knowledge base of explaining all of the different options, so feel free to look at those.
You are going to want to use JavaScript, and you're going place this wherever you want this form to appear.

The beauty of using JavaScript is that it will update, so you can embed this on your form and then change the text, change the fields, change the color, and it will automatically reflect wherever this code is embedded.
If you're doing something like HTML, all of the design and data of this form is built in to this code, so if you change something in ConvertKit it will not be reflected wherever you embedded this.
So I do recommend JavaScript.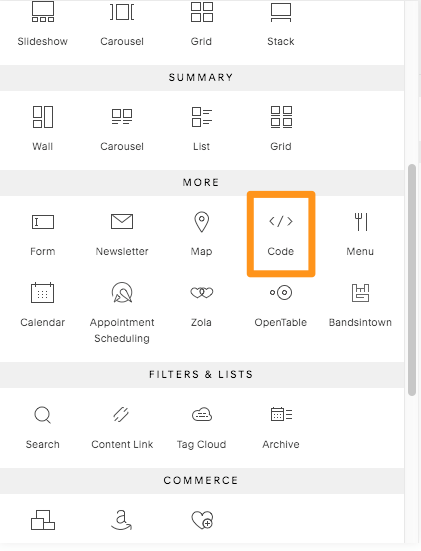 In the backend of my Squarespace site and I'm gonna go ahead and add in a new code block.
Go ahead and paste in the Javascript you copied from ConvertKit into this new code block.
Click apply, and save.
No you're going to place this wherever you want this form to appear using code blocks.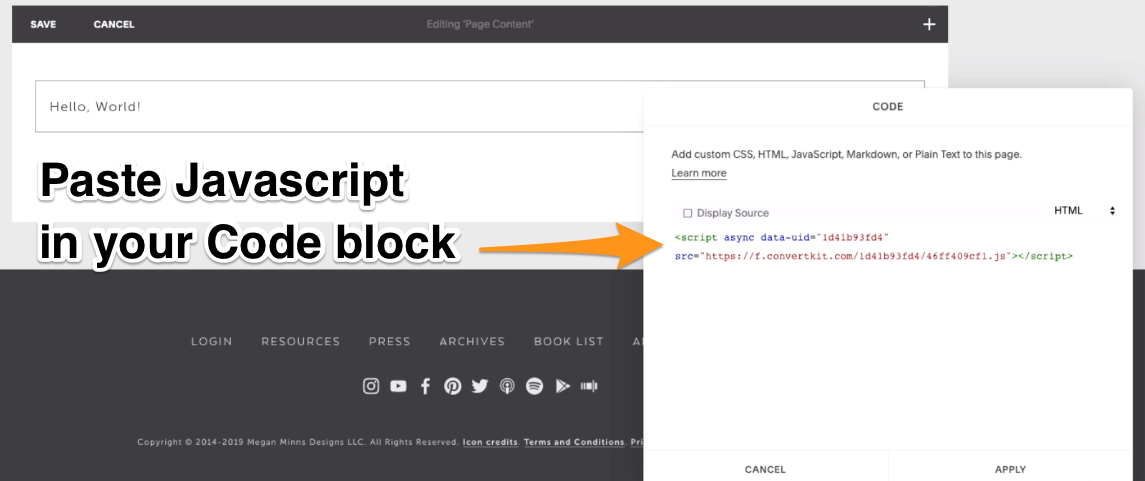 This is what your saved form will look like:

Now I'm going to go ahead and have us demo and demonstrate what this looks like and make sure the delivery was set up correctly.
Test Your ConvertKit Form
So let's go ahead and type in our name, and they're gonna click subscribe, now we see their thank you message, so let's jump over to Gmail and see what this looks like.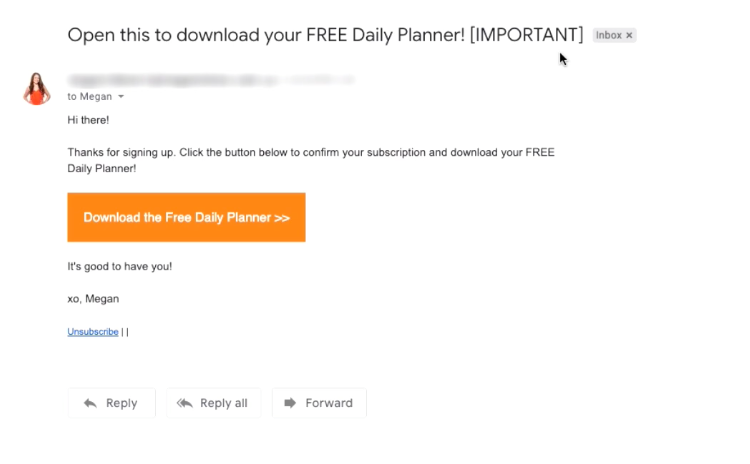 This is what it looks like on the Gmail.
Our subject line is here, we can see the message we put in at the beginning, the button to download, and our sign-off message.
So let's go and click the button.
And we can see our free file opens up in a new tab, they have the opportunity to download it or print it, and we can see exactly what we wanted.
So we have now delivered our free download using a ConvertKit form and we've tested it and now we know it works!
So that is how you deliver a free download, a lead magnet, a content upgrade using a ConvertKit opt-in form.
How to Deliver a Freebie with a ConvertKit Landing Page
Now the process is very, very similar where I just want to quickly show you what it would look like if were doing a landing page.
So let's just jump over and do a landing page.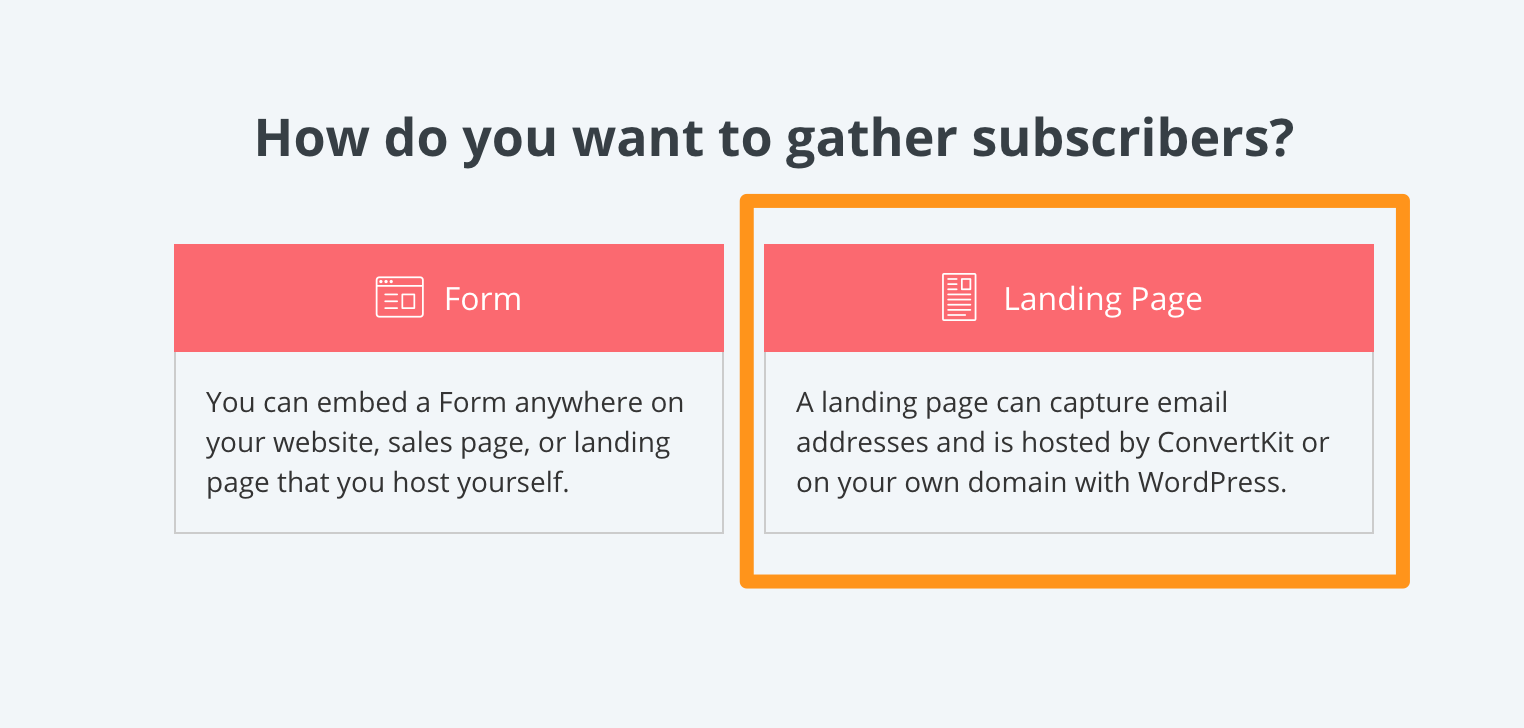 ConvertKit just released, as of the time of this recording a few weeks ago, a bunch of new templates which is great, so feel free to look through their library of templates and choose the landing page that makes the most sense for you and for delivering a freebie.
It might be something really simple or maybe you want something that shows a little bit of a mock up. So just choose what works for you!
I'm going to just choose this one 🙂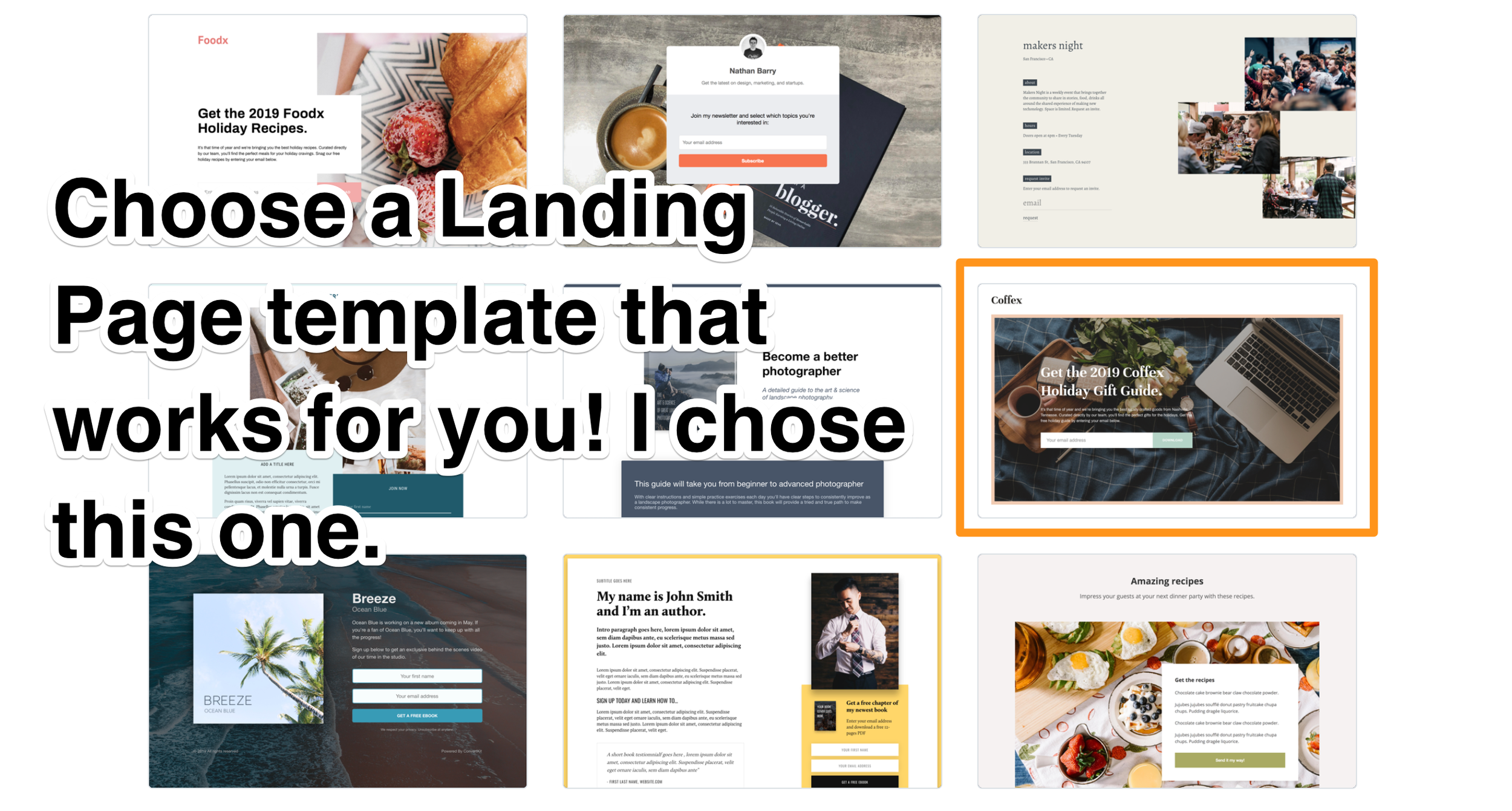 Okay so, even though we have a lot of new design options the actual lead magnet delivery side is the exact same.
Scroll back up this post to the "Editing your Encentive Email" section for a refresh!
Now, instead of embedding this on our own website, since it's a landing page it has its own page, it's hosted by ConvertKit, so let's go ahead and grab the link, open this in a new tab, and we will test it out.

Okay so we can see here's our headline, great, let's type in our email address, we're getting the success message and let's jump back over to Gmail and make sure it worked.
Okay here we go, we've got the email, we've got the blue button, if I click this button, the daily planner should open again in a new tab and it did!
So there we go, that is how you deliver a free download, a free content upgrade, or a freebie of any kind through ConvertKit forms and ConvertKit landing pages.
I hope you found this tutorial really simple, and easy, and helpful. And again if you are looking for a free trial of ConvertKit, be sure click the button below.
---
KEEP READING: