The Best Squarespace Templates (and what you need to do before you switch templates!)
It's no secret that I'm a huge Squarespace fan. But picking the right template can be a little overwhelming at first.
Squarespace has so many beautiful templates that it can take a lot of time to really investigate all of them.
There are several templates labeled as a certain "type" of website that are more versatile than they appear. Which means you need test out a template to even see its full potential.
But this takes time.
It can overwhelm you.
And it can lead to analysis paralysis.
Which I try to avoid at all costs.
So instead of comparing every Squarespace template, I'm going to save you time by laying out the 3 best templates for entrepreneurs.
1. Five
When I first looked at Five, I thought it was a little outdated looking. The fact that it is marketed as a yachting service didn't help its case either.
But when you actually dig into the functionality of Five, it is one of the most versatile templates Squarespace has available.
If you feel that you need a sidebar on your website, this is hands down the template for you.
Want to see it in action?
Let's look at Kayla Hollatz's website:
2. Bedford
Bedford is a popular template right now and for a good reason. It makes adding call to action buttons easy as pie.
Want a button in your navigation bar? Done.
Want a button in the header of any page? Done.
Bedford's index pages are great for creating sales pages with full-width sections too.
Want to see it in action?
Let's look at the Annapurna Living website:
3. Pacific
If you had asked me a few months ago whether Pacific was a good template for entrepreneurs, I would have told you it was only if you had a restaurant.
And this is a great example of how the way a template is marketed can affect your expectations of it.
It wasn't until earlier this year that I realized what is being presented as a great option for a restaurant, is actually the most powerful template Squarespace has to offer right now.
While I love Five and Bedford and recommend them highly, Pacific is my absolute favorite template. So much so that I switched my own website from Bedford to Pacific last month.
While Bedford has amazing index pages that can be used to create full-width image banners, there was always a limitation to it. You could only use text on the banners. No images. No Squarespace blocks. Just text that you could format into being italic, bold, or a link (which would turn into a button).
Pacific, however, takes the index page to the next level.
Instead of having a "page" that has a full-width header banner, each page on Pacific is actually its own full-width section. You can add images, blocks, and anything else you want as you would with any page. Just add a background image to any page and magic happens!
If you want a highly personalized Squarespace website (and don't need a sidebar), then Pacific is the perfect template for you.
Want to see it in action?
You already are right now on my own site!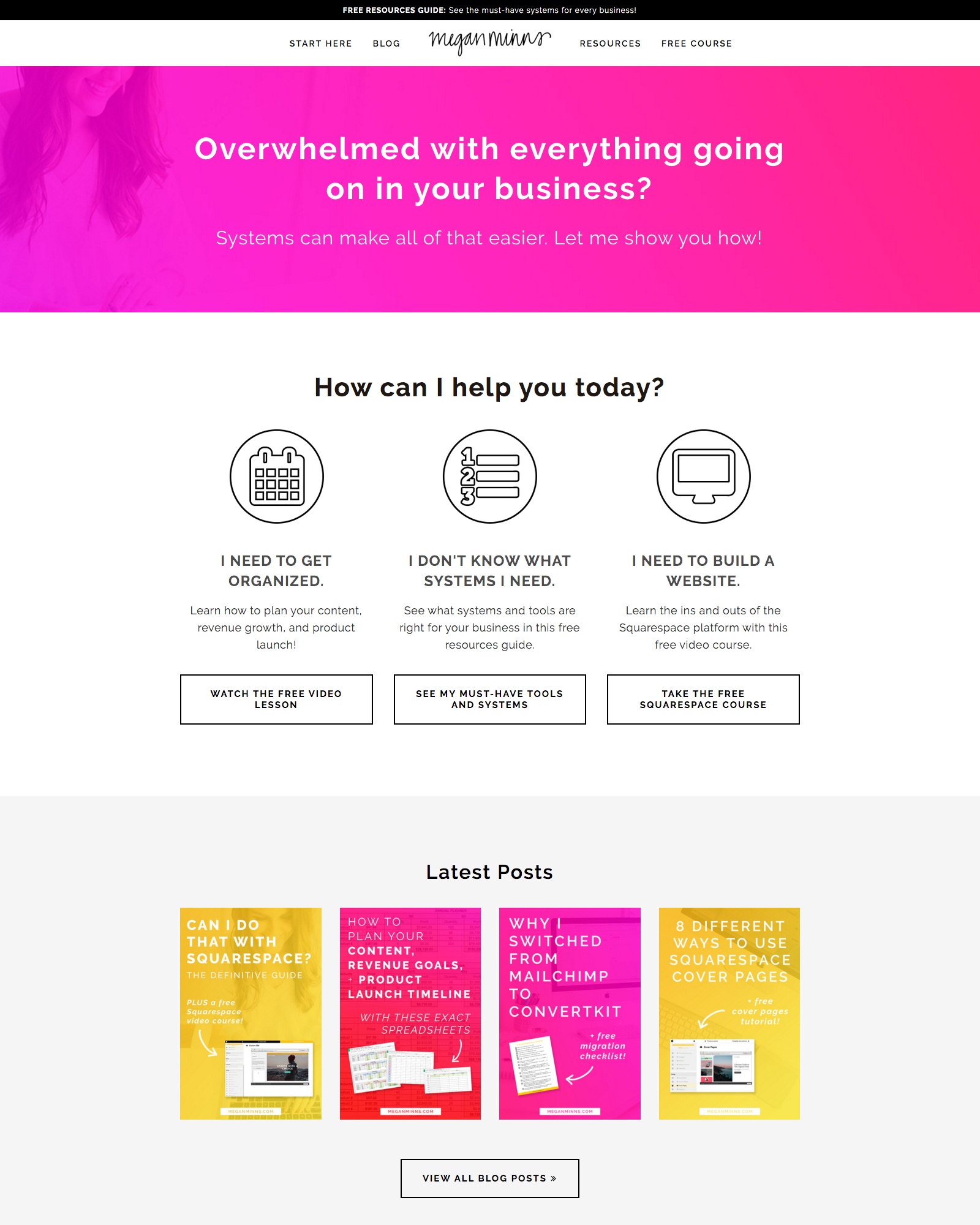 Want to compare all of the templates?
I don't blame you!
Instead of recreating the wheel myself, I want to share with you this comprehensive comparison chart from Using My Head:
Ready to switch templates but don't know where to start?
I created a FREE checklist just for you! In this checklist, I walk you through step-by-step what you need to document, how to do it, and every single thing you should do before you switch templates!
So, what's your favorite template?
Share your website (and what template you're using!) in the comments below. I love seeing how everyone takes a Squarespace template and makes it their own!